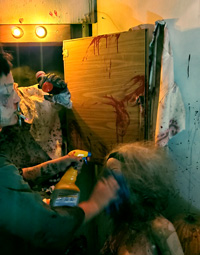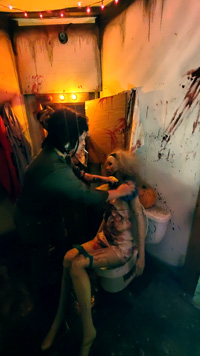 At D.E.A.D. Rising, we are better equipped than most of the big haunts to deal with covid 19. Our parking is onsite. There are no crowded shuttle busses. We have a policy of taking the time to scare everybody, so we have never put customers through our haunt in large groups. Since we take the time to scare everyone, our group size has always been a maximum of six people at a time. We then, keep those small groups separated inside the haunt. We have no internal queue lines [sic] or additional waiting once you enter the haunt. Our core show will go on as it always has, since we already social distance. As always, our ticket booth will be open, and accepting cash, credit cards and money. Online tickets will be available as well, please read all the instructions on your ticket carefully. There are no reservations. VIP tickets will be available after opening weekend.

What is changing this year:
-The entire haunt industry is going to run more slowly this year. Please be patient.

-If you are sick, coughing, have a fever are quarantined or have been exposed to the virus, please stay home. We will do the same.

-All customers will be required to wear a mask that properly and adequately covers their mouth and nose, at all times while on the premises. Do not get in line unless you have a mask on. If you are unwilling and or unable to keep your mask on you will be denied service, with no refund.

All customers Will have their temperatures taken upon arrivial. If anyone in the group has a fever of 100.4 or greater, and or is exhibiting covid 19 symptoms you will not be able to purchase a ticket. If you have already purchaced an online ticket, check your temperature before arrivial. There will be no refunds for online tickets if someone in your group is sick.

-We will limit the number of customers in our covered waiting area. You must wait in the designated squares, with your group, maintaining six feet of distance from strangers.

-This year we will not be combining small groups to make a group of five or six people. The group you bring is the group you go in with. If your party is larger than six, it will be split into multiple groups as we always have.

-We disinfect commonly touched surfaces throughout the night. Please bear with us.

-You will be requested to use the provided hand sanitizer prior to entry, and hand sanitizer will be available inside the haunt.

-Many high touch surfaces have been modified or eliminated.